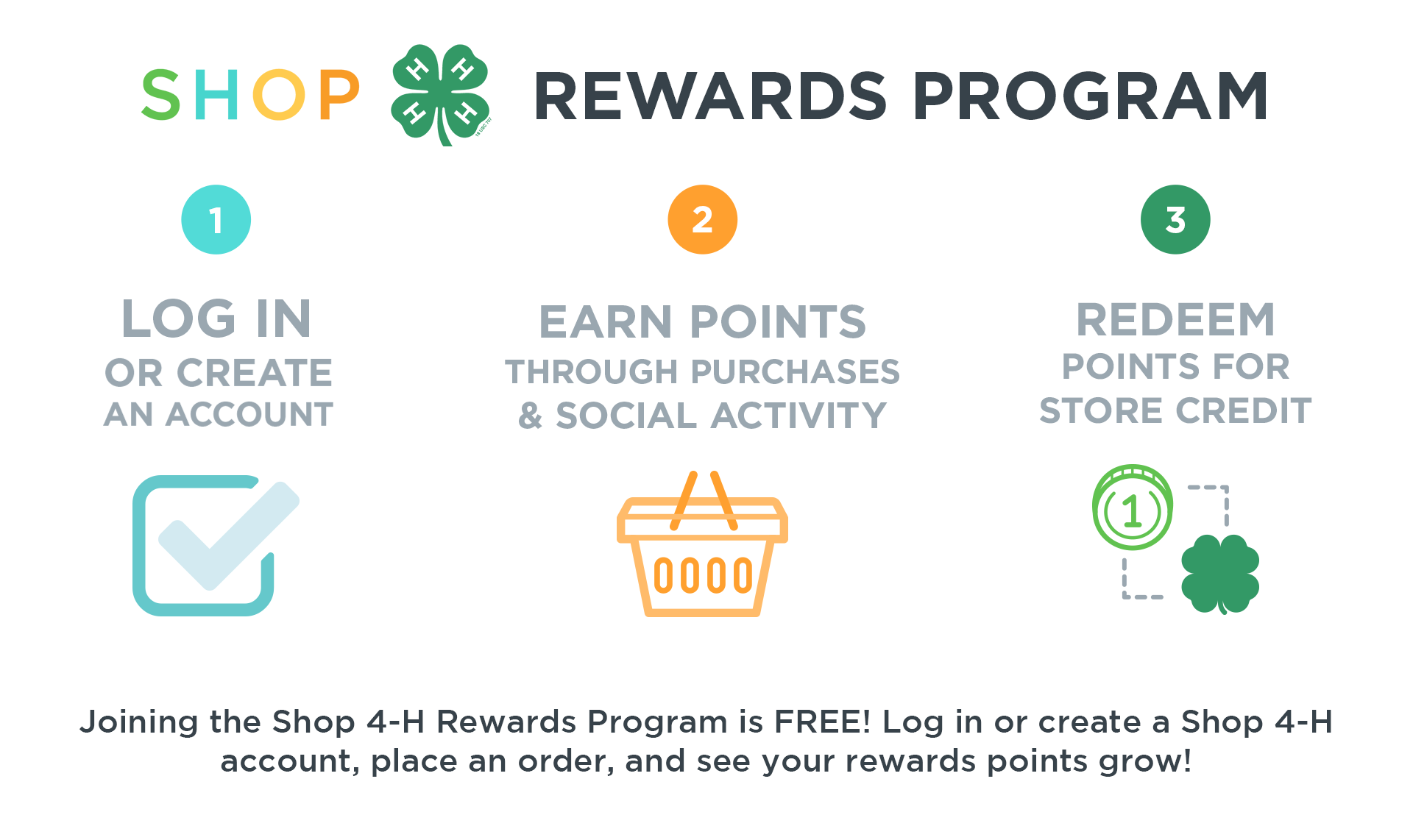 Once you have a Shop 4-H Account, you are automatically part of the Clover Coins Rewards Program!
You will then accumulate Clover Coins for purchasing merchandise, referring friends to Shop 4-H, and completing social activities. Every 100 Clover Coins equals $1 in Shop 4-H store credit, and once you reach 500 Coins you are able to redeem your first reward.
NEW! We have recently introduced a reward at $5 so you can earn your first reward quicker, as well as a reward at $100 so our bigger customers can utilize the Clover Coins they've earned easier.

The chart below shows the details regarding each of our 5 redemption levels.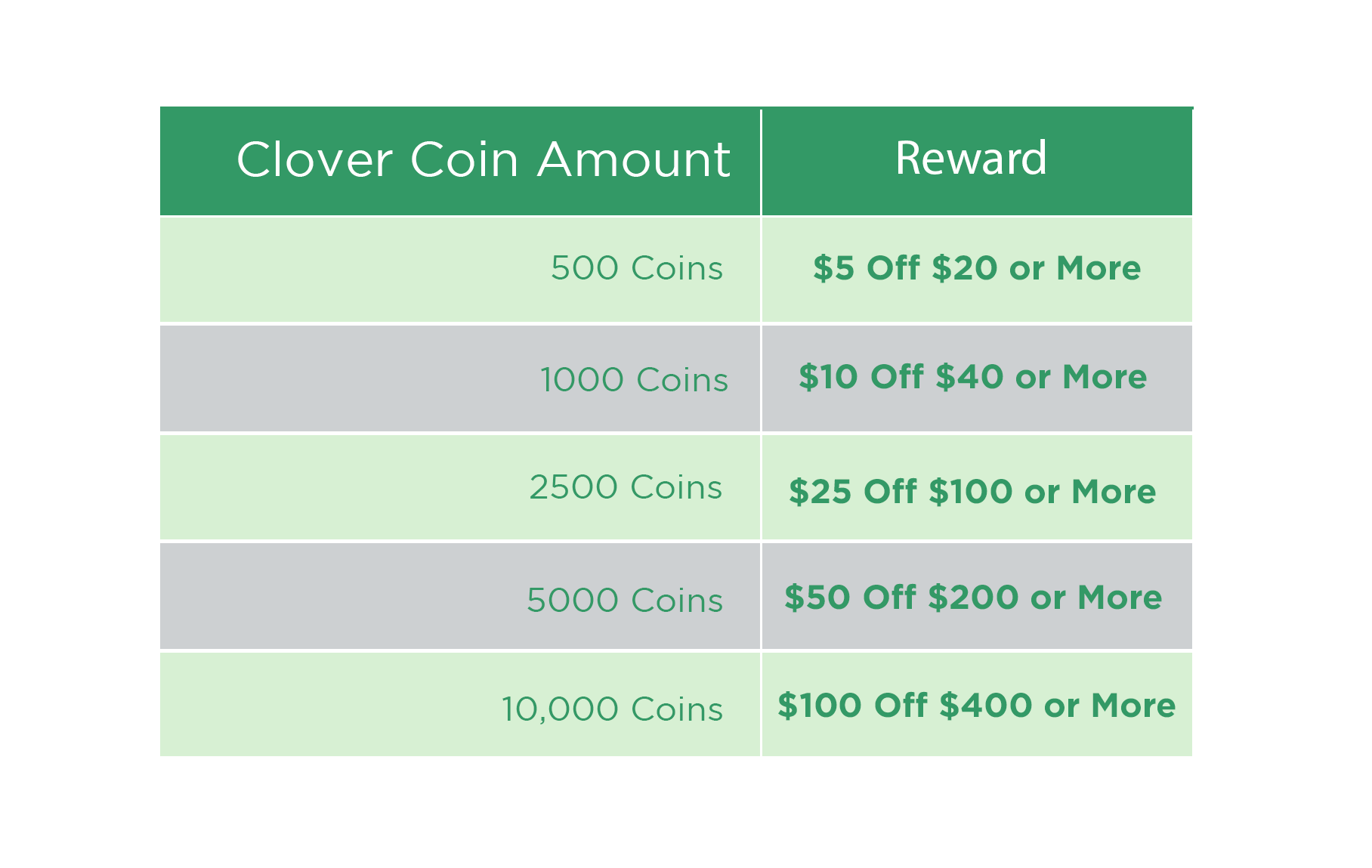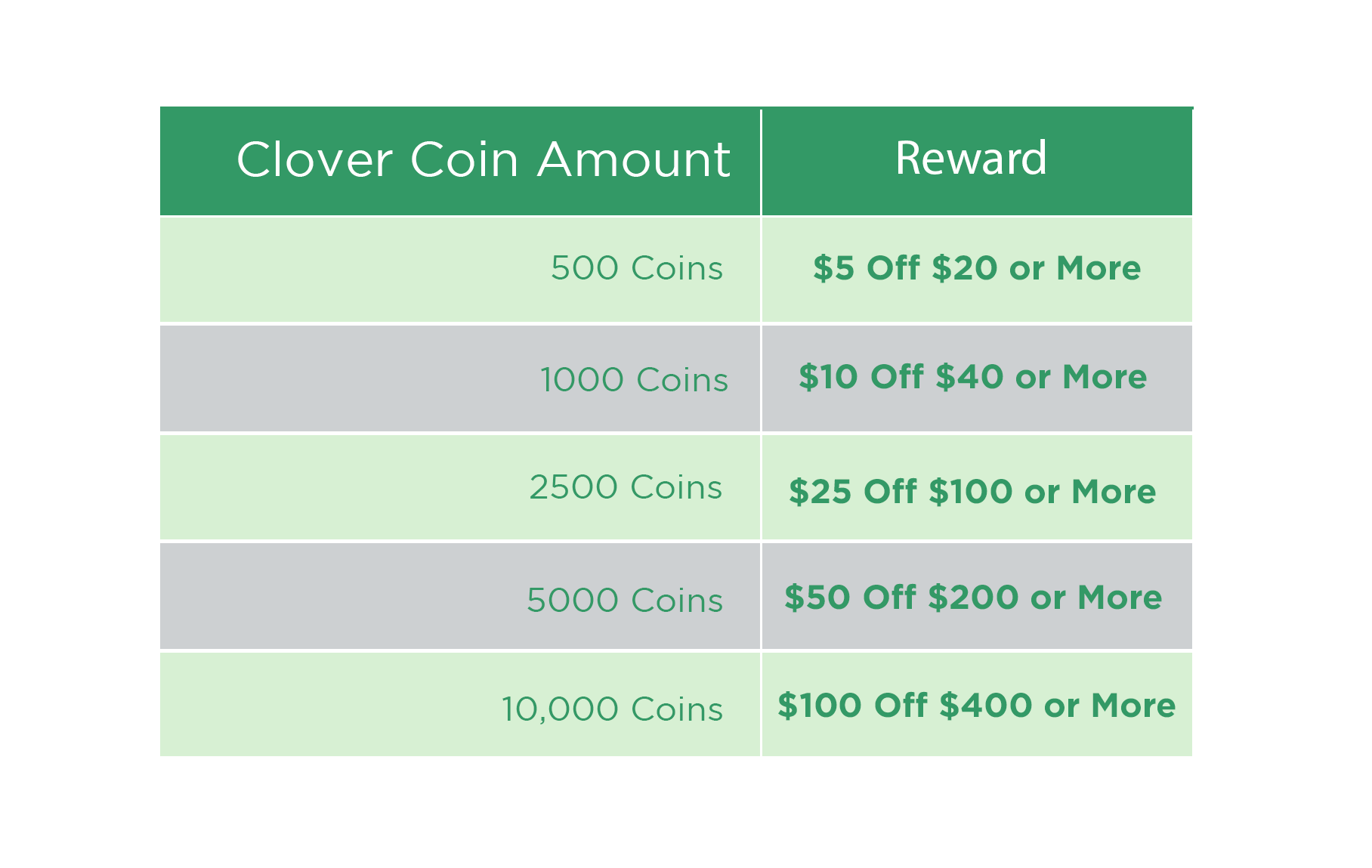 You can earn Clover Coins in 8 different ways! All the activities that earn rewards are detailed in the chart below.

TIP: Placing orders and writing reviews on products via our order follow-up emails are the most commonly completed activities, but don't forget to share your referral link with friends! Each time someone uses your unique link to create a Shop 4-H account and places their first order, you earn 1000 Clover Coins. PLUS, he or she will receive $10 off his or her first order of $25 or more - so share the wealth!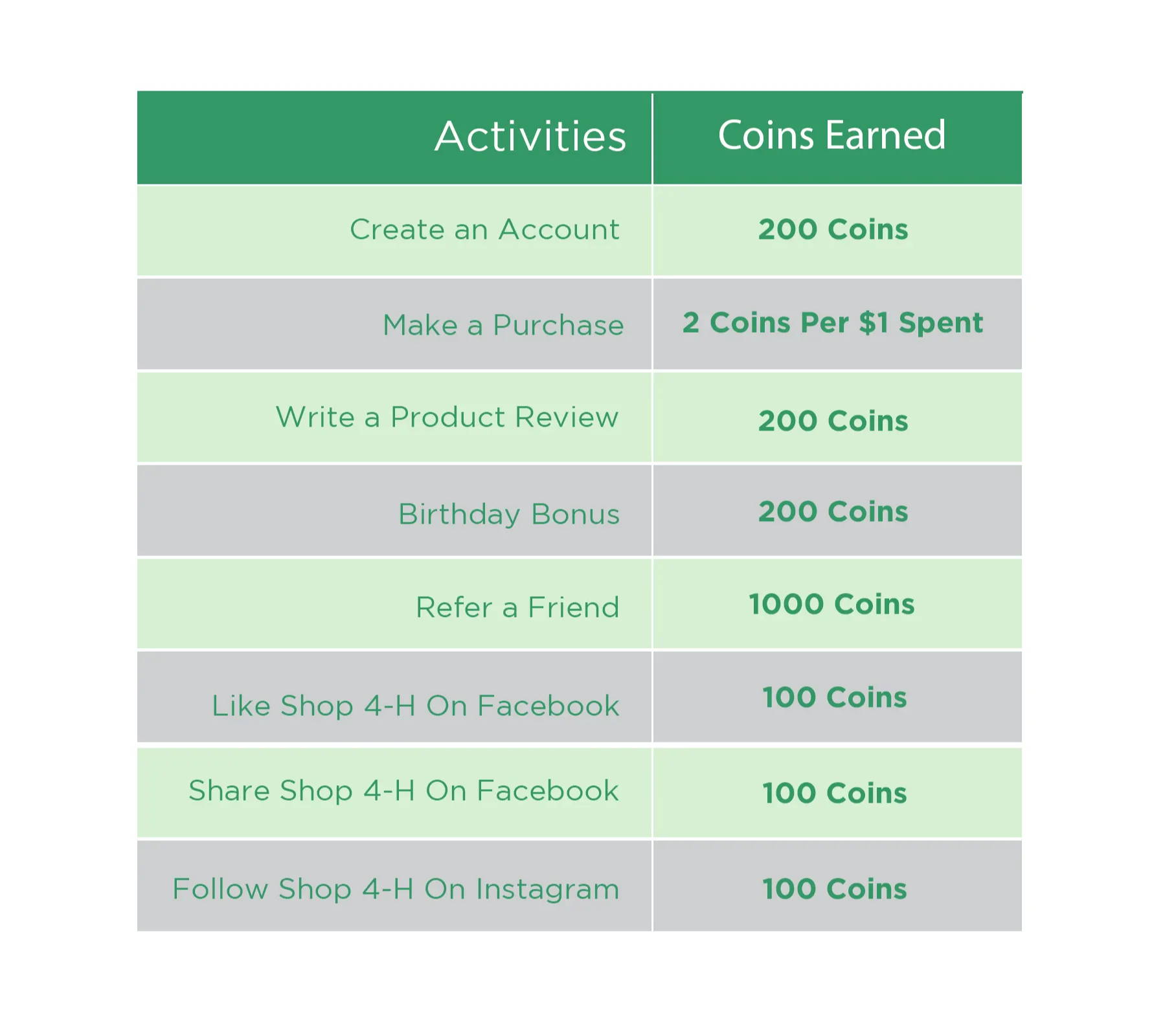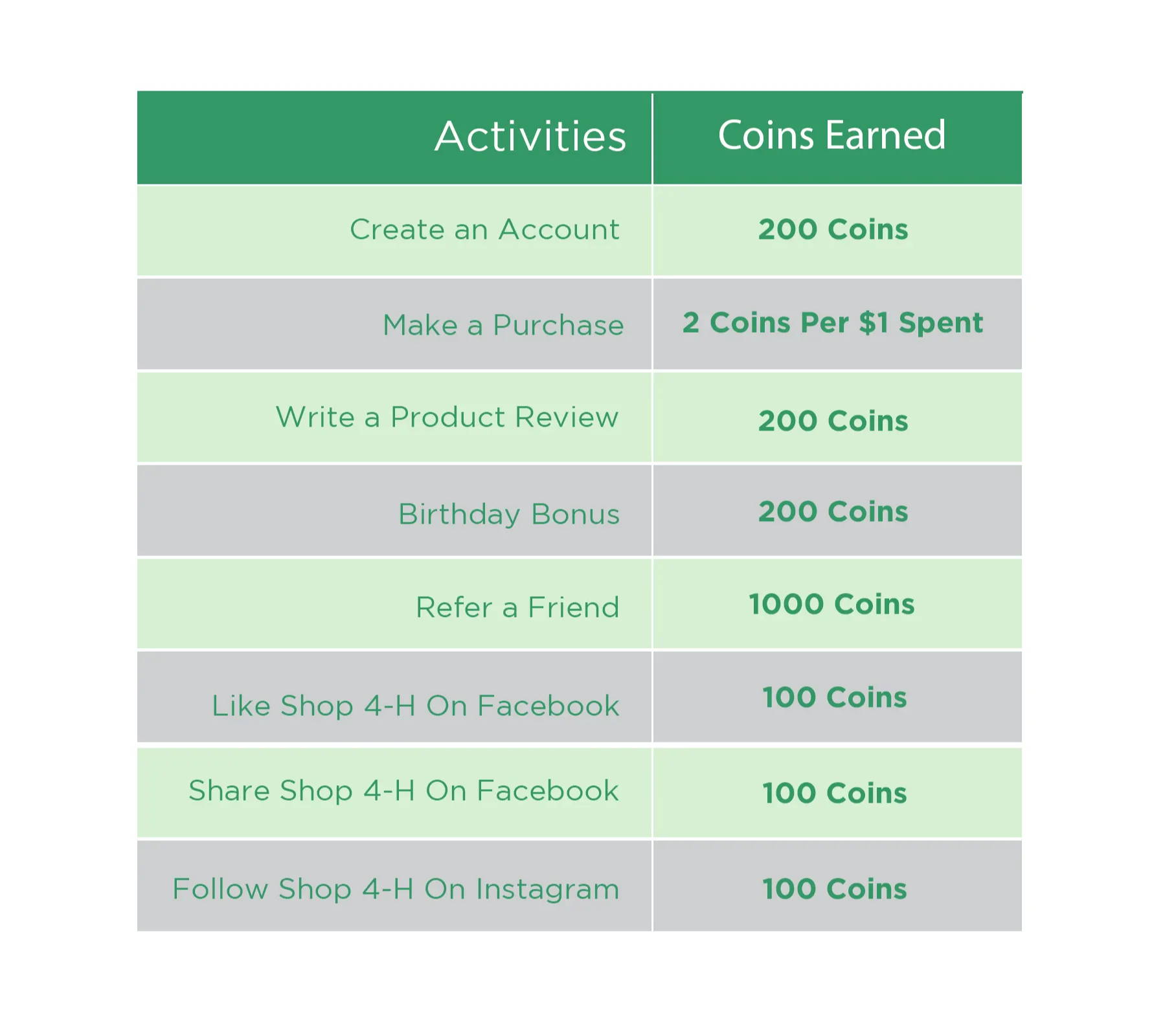 Newly Updated in October 2023:
Each dollar spent earns you 2 Clover Coins, and you can also earn Coins according to our 7 additional methods for earning rewards.

100 Clover Coins equals $1 in store credit, and Clover Coins can be redeemed according to our listed redemption levels.

Only purchases made while logged into your account are eligible to earn Clover Coins.
Clover Coins become available to use after the order has been successfully paid for.
Clover Coins are not awarded for shipping or tax costs.
Some purchases may not qualify for Clover Coins.

Clover Coins expire 6 months after they're rewarded if there is no account activity, so keep earning or spending Clover Coins so they don't expire!

Shop 4-H reserves the right to modify or cancel this program at any time.
Clover Coins are non-refundable and not redeemable for cash.
Abusing the program may result in suspended or canceled orders and forfeited Clover Coins.
Contact customer service with questions or comments: hello@Shop4-H.org or (301) 961-2934.


Q: I already have a Shop 4-H account. Do I need to join the Shop 4-H Rewards Program, too?
A: No, the Clover Coin Rewards Program uses your Shop 4-H account! Just sign in before making a purchase to earn your Clover Coins. If you have an old account from the 4-H Mall, you will have to create a NEW account with Shop 4-H.
Q: Do I earn Clover Coins on items purchased using a discount promo code?
A: Yes, you will earn Clover Coins based off the order subtotal amount.
Q: Can I use Clover Coins to pay for purchases when I'm also using a discount promo code?
A: Yes! Clover Coins are in the form of store credit rather than a coupon and both may be used at checkout.
Q: Can I combine Clover Coins with those of my family or friends?
A: No. Clover Coins from multiple accounts cannot be combined.
Q: I used my Clover Coins on my last order, then I canceled/returned it. Will I get my points back?
A: Unfortunately, we don't reissue points once they have been redeemed, even if you cancel your order or return items.
Q: When are Clover Coins deposited into my account from a transaction?
A: Points will appear in your account once you've successfully paid for your order.
Q: How soon can I use my rewards?
A: Clover Coins are available for immediate use once they are deposited into your account. You need a minimum of 1000 coins ($10) to redeem for store credit that can be applied to your next purchase. Please note that the largest store credit amount that can be redeemd at checkout is 5000 Clover Coins ($50), which can only be used on an order of $150 or more.
Q: How can I get credited for referring friends to the Shop 4-H Rewards Program?
A: Access your referral link in the Clover Coins center (via the 'Reward Program" button at the bottom of any page on our site). You can share the link directly or use the buttons to share via Facebook, Twitter, or email. When your friend follows the link, he/she will get a coupon for $10 off his/her first order with a subtotal of $25 or more. You will earn 1000 Clover Coins ($10 in store credit) when the coupon is redeemed on the first purchase with a new Shop 4-H account. (Please note that referred customers must create an account on our site at time of purchase, guest checkouts will not count towards a referral!)